To Mauritius from Reunion Island, a short hop to our closest neighbour!
Situated just half an hour's flight from Reunion Island, Mauritius has always appealed to Reunionese travellers. Its breath-taking beaches, welcoming locals and high-class hotels really make the destination stand out above the crowd. A long-lasting love story!
Mauritius: just the name alone is a call to kick back and unwind! Affectionately known in Reunion as our 'Sister Island', Mauritius boasts everything that one would expect from a 'paradise' destination. As soon as you arrive by plane, the view on display is truly stunning, immediately setting the mood for a holiday full of colours. Seen from above, the huge lagoon looks like a magnificent watercolour painting - the self-styled signature of Mauritius!
Once you have set foot on the island, why not go out snorkelling or laze around one of its many beaches - Blue Bay, Flic en flac, Ile aux Cerfs or Ile aux Aigrettes are probably the most idyllic. It takes several days (or rather several visits!) to be able to fully explore all the gems on offer in Mauritius, and visitors are spoilt for choice...
Venturing inland, the island is full of authentic villages and farms, nestled in lush natural environments reminiscent of Reunion Island. In the south of Mauritius, you can't miss the 550-metre high Morne Brabant either. Listed as a UNESCO World Heritage Site, this mountain boasts sensational panoramas to those brave enough to dare climb its summit!
Another reason for wishing to extend your stay is the warm welcome of the locals. Similar to Reunion, the Mauritian population is a melting-pot of origins, with a particularly strong Indian influence. As a result, there are a number of sacred sites and temples to visit, which is a great way to learn more about Mauritian culture. In Grand Bassin, Ganga Talao is an important site for Hindus, home to huge statues of the goddesses Shiva and Durga. For its strong spiritual value, it really is worth a visit.
Finally, why not take advantage of your trip to Mauritius from Reunion Island to treat yourself to a timeless trip to the 'Cinderella' of the Mascarenes, Rodrigues Island
Read more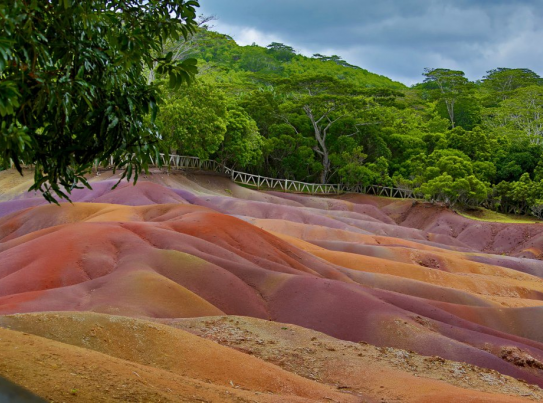 The essentials of the destination

Distance
226 km

Flight time
0h45

Flight schedule
6 flights per day

Meteo and climate

Time zone difference
0

Language
English, Creole, French

Conditions de voyage
Currency
Roupie Mauricienne
Sharing experience in Mauritius
For lovers of Indian street food, Mauritius will really amaze you! Here, just about everywhere in town, in Port-Louis or Curepipe for example, you can find vendors of Dal-Puri or Roti on every street corner: two Indian specialities that you can taste on the go. A real treat!
Prénom et nom
Julien Permale
During a trip to Mauritius from Reunion Island, don't miss out on a visit to a Hindu temple! The temple in Quatre Bornes is particularly worth the visit. Perched on Corps de Garde mountain, it boasts a magnificent view across the whole city. If you are there during Cavadee, just go for it - the parade is awesome.
Prénom et nom
Audrey Lauret