RODRIGUES, A PERFECT DESTINATION FOR AN AUTHENTIC BREAK FROM REUNION
With flights departing from Reunion Island's Roland Garros Airport, why not head off to this authentic and well-preserved destination?
Situated to the west of Mauritius, Rodrigues Island is a little-known paradise of less than a hundred square kilometres across, but yet still boasts all the appeal of a larger destination!

While this unspoilt natural sanctuary is sometimes referred to as the 'Cinderella' of the Indian Ocean, it actually got its name from Diego Rodrigues, the explorer who discovered it back in 1528. With its diverse landscapes, volcanic origin and relaxed daily life, far from the hustle and bustle of the modern world, the island of Rodrigues is reminiscent of Reunion Island of yesteryear.

If you are looking for a peaceful and authentic holiday, the smallest island of the Mascarene Islands is your perfect destination. Its wild creeks and shimmering lagoon of more than 200 km2 are undeniable natural assets. In a little over 2 hours' flight from Reunion Island, Rodrigues is also a hotspot for kitesurfing enthusiasts and divers, thanks to its exceptional conditions.

And foodies will love it here too! As in Reunion, cooking is vital part of life in Rodrigues, and the spread on offer is just like the island itself: both generous and diverse.

Early in the morning, at low tide, don't miss the unusual sight of the island's octopus catchers. These world-famous Rodriguan women scour the lagoon for octopuses before drying them out on the beach. On the menu, octopus is often eaten fresh as a salad - it's part of the staple diet here, but above all a real pleasure to eat!
Read more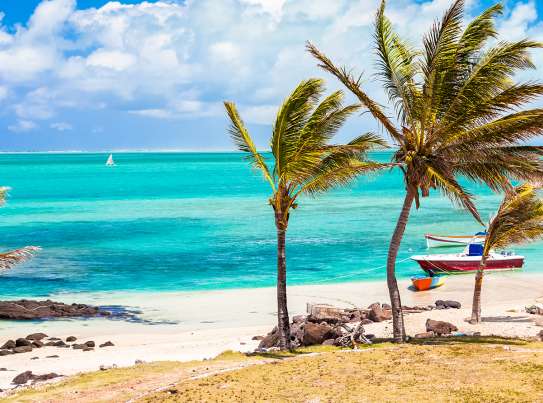 The essentials of the destination

Distance
836 km

Flight time
2h05

Flight schedule
1 flight per week

Meteo and climate

Time zone difference
None

Languages
English, Creole, French
Currency
Roupie Mauricienne
Sharing experience in Rodrigues
The market in Port Mathurin is a great way to immerse yourself in the daily life of the people of Rodrigues. It really is a must-see moment of life on the island, as many locals go there every Saturday morning. For a really authentic experience, make sure you follow their lead and go to the market by bus - the local transport network is well organised and quite a novel experience!
If you're homesick for the hiking footpaths of Reunion Island, why not try climbing Mont Limon? At an altitude of 393 metres, the island's highest summit boasts a spectacular panoramic view of the lagoon and its thousand shades of blue. Especially at the first light of dawn - simply magical!
Prénom et nom
Xavier et Pilar