If you wish to import or export dangerous products such as perfumes, electronic devices or radioactive products, find out more about the relevant regulations below.
All information listed here is for reference only, and may not be fully complete.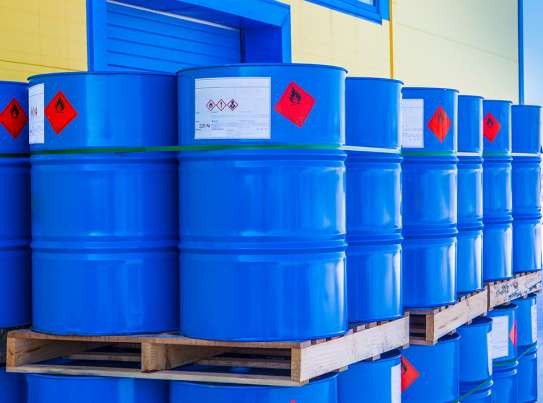 Regulation and certifications
What is considered a dangerous product?
A product is considered to be dangerous when it represents one or more risks that may cause harm to people or to the environment. Whether pure substances, mixtures or blends, dangerous products are subject to strict regulations regarding their usage, storage and transport conditions. Depending on their physical and chemical properties, acute or chronic effects on humans and the environment, they each have a classification based on a scale of seriousness.
The different classes are:
Class 1: Explosives

Class 2: Gases

Class 3: Flammable liquids

Class 4: Flammable substances or solids

Class 5: Oxidising substances and organic peroxides

Class 6: Toxic and infectious substances

Class 7: Radioactive substances

Class 8: Corrosive substances

Class 9: Various dangerous substances
The transport of dangerous materials occurs frequently in the air cargo industry. Each type of dangerous material requires specific care and handling to be allowed on the aircraft.
In many cases, these goods can be transported safely by air, provided that the standards set out in the IATA transport regulations are strictly adhered to.
Some goods are not allowed to be carried on board an aircraft; others are only allowed on board cargo aircraft.
IATA regulations define the quantity limits of dangerous goods per package, which are strictly verified when the goods are accepted by the airline.
Read more
Facilities
The Freight Terminal has a specific area for handling dangerous materials and our teams are trained to handle dangerous materials.
Read more
Transit companies
Whether you're looking for assistance concerning administrative procedures or someone to organise the shipping and reception of your goods, simply check out the list of companies below. You can add filters to your search based on your needs here.
Read more
Unauthorised products
For freight aircraft which also operate commercial flights (with passengers), certain dangerous products are prohibited: explosives, flammable gases, toxic or infectious substances, oxidants and corrosive substances.
Only full Cargo aircraft are allowed to carry dangerous goods in accordance with IATA (International Air Transport Association) regulations.
Read more
Transport conditions
Your freight forwarder will be best placed to advise you on conditions for transporting your dangerous goods. However, you should be aware that packaging for the transport of dangerous goods must be UN-approved (United Nations) and clearly labelled as compliant for the transport of dangerous goods. This packaging is mandatory, and an essential component of safe transport. The approval number certifies that a package is compliant for use in storing and transporting dangerous goods.
Read more
Administrative and tax formalities
The import or export of dangerous goods requires a Dangerous Goods Declaration (DGD) and a Material Safety Data Sheet (MSDS)
What are the DGD and the SDS?
The DGD is a declaration containing all data required by IATA Regulations, and is drawn up by the person shipping the goods.
The Material Safety Data Sheet (MSDS) is an identity card for the dangerous goods being transported, containing all the information about the products. The MSDS must be provided by the manufacturer of the dangerous product.
What are they for?
The DGD declaration ensures the proper handling of the dangerous cargo during transport in order to facilitate any response needed in case an incident occurs during the flight or on the ground.
The Safety Data Sheet contains information regarding health and environmental hazards, indications on means of protection, choices of means of transport, as well as measures to be taken and emergency contacts.
Read more
Delivery times, pricing and online quotes
To find out about our rates for in-store processing of your shipments, simply contact us for a quote.
Read more
Quote request