Using air freight allows you to move house quickly, and it remains the safest and ultimately the cheapest option when compared to other types of transport.
All information listed here is for reference only, and may not be fully complete.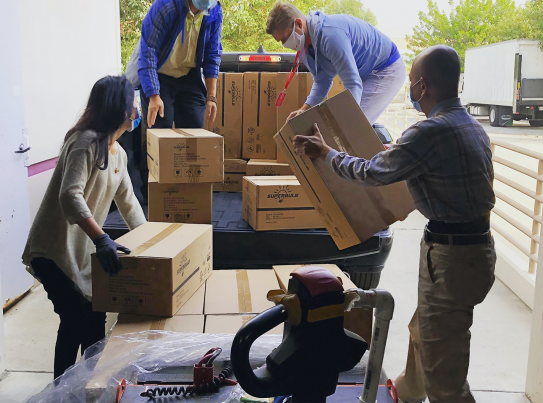 Regulations and Certifications
When moving house due to a transfer or simply a change of residence, your personal effects and objects can be imported free of duties and taxes, under certain conditions.
What is duty and tax free?
Duty-free is the exemption from customs duties and taxes on personal goods.
I would like to benefit from duty and tax exemption. What are the conditions?
- You have been resident for at least 12 consecutive months in mainland France or in another EU Member State or in a non-EU country.
- Your goods were purchased inclusive of all taxes in the country of origin.
- Your goods were in your possession and actually used by you for at least 6 months prior to the transfer of residence if that place were a third country (non-EU).
- There is no requirement to have been resident in a country outside the European Union (note: the goods must still have been acquired and used before the change of residence).
- The goods must be imported in one or more deliveries within one year of the transfer to your new residence.
Read more
Facilities
With more than 7200m² of temporary storage space, we are able to receive and send your household possessions quickly.
Read more
Transit companies
Whether you're looking for assistance concerning administrative procedures or someone to organise the shipping and reception of your household possessions in complete safety, simply check out the list of companies below. You can add filters to your search based on your needs here.
Read more
Unauthorised products
What goods are not eligible for duty and tax free when moving house?
- Tobacco

- Equipment for professional use

- Means of transport (van, truck etc.)

- Alcoholic products (a tolerance of 50 bottles is allowed, but the number of bottles containing more than 22% alcohol content may not exceed 15 out of the 50 mentioned above)

- Goods acquired while attending a university or school (with the exception of study kits and other furniture acquired by pupils or students).
Read more
Transport conditions
We advise you to pack your belongings in boxes weighing less than 25 kilos and, for the most fragile ones to add bubble wrap, in order to facilitate the palletisation and stowage of your possessions.
The transport conditions of your personal freight will depend on conditions accepted by your airline.
Read more
Administrative and tax formalities
I am moving to Reunion Island and would like to benefit from duty and tax exemption. What documents are required?
- A detailed, dated and signed inventory (in duplicate) of the goods and furniture that you intend to transfer to France or to Reunion.

- Any document proving that you had your residence in another country and that you are settling in France or Reunion (e.g. a job contract). Before leaving the country, you can request a certificate of change of residence from your nearest French consulate.

- A declaration form for entering France or Reunion free of charge for your valuables and vehicles, which you can find on the customs website.
Read more
Delivery times, pricing and online quotes
Would you like to have an estimate of your handling costs? Simply ask us for a quote.
Read more
Quote request