Réunion Roland Garros airport has seen a succession of development and extension projects over the last few decades. Alongside these developments, passenger traffic has increased by 500,000 over a period of ten years.
The investment plan for 2011-2022 has been split into two phases. The first, which focused on aeronautical infrastructure, technical services buildings and the passenger terminal and which cost a total of 120 million euros, ended at the end of 2015. The second phase (2016-2020) involves equipping the airport to receive an annual traffic of more than 3 million passengers in 2025 and devising a long-term economic development strategy around the platform and reconciling it with the forthcoming regulatory changes.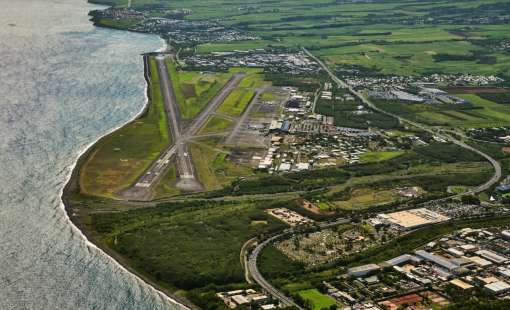 A few statistics
261 Acres
- 2 tracks including a 3200 meters
- 8 parking positions for wide-body aircraft
- Over 35 000 m2 of terminal surfaces :
• Passenger Terminal : 27 000 m²
• Freight Terminal : 8000 m²
Passenger terminal "A nominal annual capacity of 2.5 million passengers "
- 27,000 m2 of surface divided on 4 levels
- 28 check-in desks
- 5 departure baggage sorting carousels
- 3 carpet arrival baggage delivery
- 8 windows and air conditioned jetways
Simultaneous processing capacity: 4 planes " jumbo " 2 on arrival and 2 from departure
A cargo terminal to handle up to 40,000 tons per year
- 8000 m² of shops and warehouses
- 1 animal station
- 1 border inspection post to European standards
- More than 3,000 m² of offices on 3 levels
Development plan for Reunion Roland Garros Airport
Accommodating the latest generation jumbo jets with European safety standards, offering ever more services and comfort to more than 3 million passengers per year and accompanying persons , innovating to meet environmental challenges, are all major challenges that Aéroport de La Réunion Roland Garros is committed to meeting through its airport development programme up to 2022.
Read more