The Roland Garros Airport management contract, awarded to the Chamber of Commerce and Industry-Reunion since 1965, is handed over in 2011 to the new Airport Authority established on 14th June and officially installed on 20th June.
It is the culmination of a process which started in 2005, with the passing of the law on the French airport reform. This brought in a new management system involving the 11 French major regional airports including the one in Reunion. For each of those airports, the law provides for the establishment of a public limited company fully responsible for their management and operations. The initial capital of the companies will be wholly owned by public entities, as follows: 60% by the French Government; 25% by Chamber of Commerce and Industry and 15% by local authorities.
Since then, the Airport Authority holds a 38-year management contract up to 2048. Its capital is shared between the Government, CCI Reunion, the Regional Council of Reunion and Sainte-Marie Commune, where the airport is situated.
Read more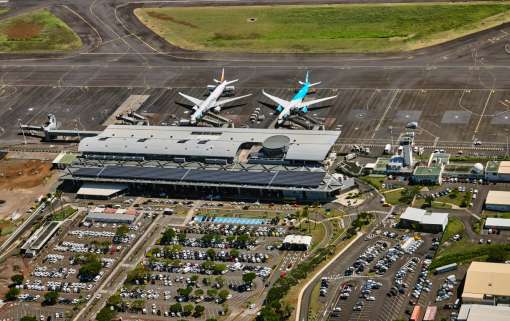 The Reunion Island Airport Authority emerges and an important investment programme is approved. It becomes necessary to extend the terminal in anticipation of traffic growth: from two million passengers at the close of 2011, it may well have to handle 3 million by the year 2025. In addition, new-generation large aircraft may well be servicing the island. The European Union, the French Government and the Regional Council of Reunion committed to funding a major part of the investment required up to 2020. The mandate of the Airport Authority is to implement the programme. It will be required to strengthen and widen the runways, to extend he aircraft parking zones and the passenger terminals and o increase the services available at the airport.
The Surveillance Committee
The Reunion Island Roland Garros Airport Authority Surveillance Committee consists of 15 members holding a 3-year mandate, as follows: 8 Government representatives, 4 representatives of CCI Reunion and 3 representatives of the local authorities.
Composition 2020 - 2023 
Représentants de l'État :
Marie-Anne BACOT, Chair of the Surveillance Committee
Jacques BILLANT, Joaquin CESTER, Philippe MARSEILLE, Christian MARTY, Claire DREYFUS CLOAREC, Stéphanie BASCOU, Olivier VASSEROT
 
Representatives of CCI Reunion
in progress

 Representatives of the local authorities:
Reunion Island Regional Council :  Lynda LEE MOW SIM, Bernard PICARDO
Sainte-Marie City Hall : Richard NIRLO
The Board of Management
The Board of Management of the Roland Garros Airport Authority has been given a 5-year mandate by the Surveillance Committee. As of January 1, 2021, Mr. Christian FOUYER replaces Ms. Maryvonne RIVIERE.
 
The members are:
Guillaume BRANLAT - Chair
Christian FOUYER - Member
Fabrice GRONDIN - Member