Flights from Reunion to Paris Charles de Gaulle: destination Mainland France
From Reunion Island, fly to the capital of love! Paris Charles de Gaulle Airport is an ideal starting point for any stay, whether in the City of Lights, in mainland France or anywhere in Europe!
Every day, several flights take off from Reunion Roland Garros airport and fly direct to Paris CDG. Whether traveling for work, to see friends and family or to take a holiday, there is no shortage of reasons to travel to Paris! From the legendary Eiffel Tower, its numerous museums and its trendy addresses, there are so many great reasons to spend a few days in Paris! Some may be looking for culture, art, gourmet meals or romantic memories, but the capital really has something for everyone - and herein lies the beauty of Paris! And it's no coincidence that the city is one of the world's most popular tourist destinations - French flair at its best! Located to the north of the city, Paris-CDG airport is France's leading airport. Thanks to CDGVAL, its automatic and free metro system, travellers arriving from or departing to Reunion Island can easily get from one terminal to another.
Although it is quite far from the city centre, Paris Charles de Gaulle Airport nonetheless has a particularly good choice of public transport. Bus, RER B, Disneyland shuttle or Parc Astérix... after your flight from Reunion to Paris, the whole capital and its region are just a few minutes away!
Finally, the airport also boasts a national railway station providing TGC links to the South, West and North as well as the Ouigo, Thalys and Eurostar lines. This is perfect for combined TGV+Air tickets, available on some Reunion-Paris flights.
Read more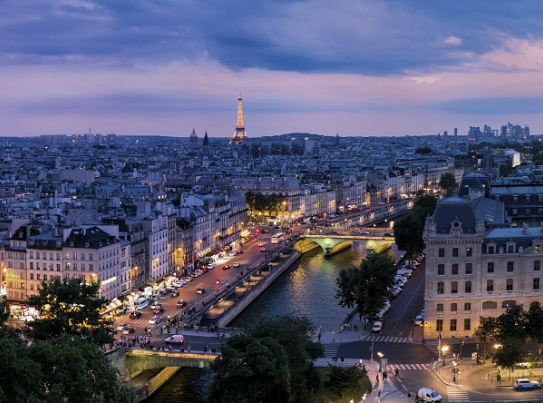 The essentials of the destination

Distance
9 388 km

Flight time
11h

Flight schedule
1 flight per day

Weather and climate

Time zone difference
-3h (winter) -2h (summer)

Language
french
Currency
Euro
Sharing experience in Paris - CDG
Once I arrive in Paris CDC, I simply hop on the Roissy Bus which takes me straight to Opéra. This is where my daughter lives, just a few blocks away. And from here on foot, you can easily get to the Louvre Museum, Notre Dame, the Grand Palais... For me, these are the most beautiful monuments in Paris!
Prénom et nom
Jean-Pierre Duteuil
Whether we're going to Parc Astérix or Disneyland, both are accessible directly from the airport after our Reunion-Paris flight, which makes it ideal when planning a surprise holiday for the children without any stress!
Prénom et nom
Yolande Hoareau