From Reunion Island to Mayotte, a direct flight to one of the most beautiful lagoons in the world!
They say that France's 101st Department is home to the most beautiful lagoon in the world... Well, how about checking it out for a 100% authentic getaway?
Located in the Mozambique Channel, just a few hours' flight from Reunion Island, Mayotte is a well-preserved destination at the crossroads between African and Malagasy influences.

With a surface area of 1500 km², its lagoon is simply awesome: a real haven for biodiversity and a propitious breeding ground, the underwater fauna is teeming! There are no less than 760 species of fish - we'll let you count them, ok? All year round, visitors can also observe sea turtles and watch the dolphins dance their way across this stunningly beautiful lagoon. One specific spot is known as the 'passe en S',' an s-shaped trench which cuts through Mayotte's coral reef, ideal for scuba diving and well-known for its magical spectacle of majestic Manta Rays.

Also nicknamed 'Seahorse Island', Mayotte is, like Reunion, of volcanic origin, but is made up of two islands: Petite-Terre and Grande-Terre. To move from one to the other, just hop on the barge - the local's daily life runs to the rhythm of this shuttle which ferries across every thirty minutes.

Inland, Mayotte boasts several unmissable hiking spots such as Mount Choungui and its panoramic view of the island. There is also the emerald green Dziani lake, surprisingly fun to walk around. And finally for nature-lovers, there are several parks, nature reserves and botanical gardens to discover the exceptionally diverse endemic fauna and flora.

A destination with many reasons to visit, you're sure to succumb to Mayotte's discreet, nay hidden charms....
Read more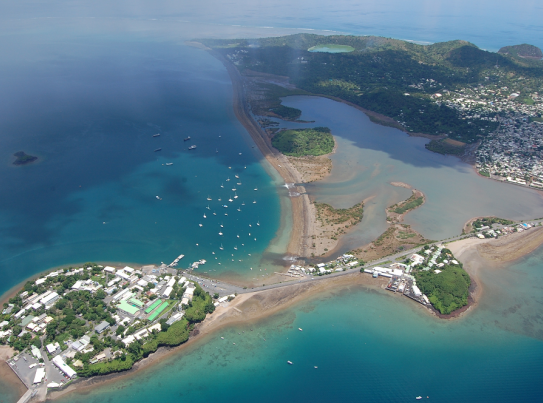 The essentials of the destination

Distance
1 431 km

Flight time
1h40

Flight schedule
1 to 2 flights per day

Meteo and climate

Time zone difference
-1h

Language
French and Mahorese (or Shimaore)
Sharing experience in Dzaoudzi
On Grande-Terre, make sure you climb the famous Mount Choungui (594m) at sunset. The view is well worth the effort, boasting a complete 360° panorama of Mayotte. At the end of the day, the flamboyant colours come to light up the whole archipelago - simply magic!
Prénom et nom
David et Stéphanie
In the far south-east corner of Mayotte lies the islet of Sable-Blanc, an unspoilt stretch of white sand surrounded by a lagoon with a myriad shades of blue. Only accessible by boat during the day, the break-taking seabed is on display beneath the turquoise water - a real must-see to get that feeling of being far off the beaten track, and one step closer to heaven itself!