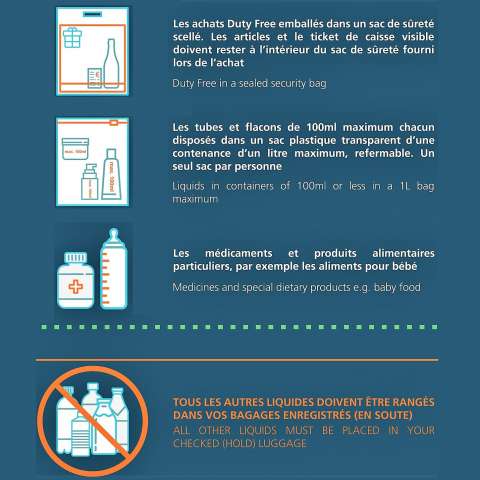 To make things as easy and as smooth as possible (through check-in and security checks), please take the time to prepare your luggage well.
You may travel with one piece of cabin baggage and check in other baggage under the conditions specified when you purchased your flight ticket.
Some airlines offer online check-in for hold luggage, so don't wait until you get to the airport to check your luggage! Pre-checking your baggage will help you get through the final check-in process at the airport more quickly.
You can also check in and carry special baggage (e.g. sports equipment, pushchairs, etc.): please consult your airline's conditions.
Cabin baggage
To prepare your bags and make your transition to airport checkpoints, limit your cabin baggage to a minimum. You can take for free, at your own risk, 1 piece of luggage per person to the recommended size and weight limits depending on the airline and fare conditions.
All liquids, aerosols or gels in containers above 100 ml are prohibited in the cabin bag, exceptions aside (those to be used during the trip for medical purposes or a special dietary requirement, including baby food, those bought airside of an airport or in flight in a sealed bag).
Caution ! All prohibited items found during the security screening will be abandoned and thrown away by our security officers.
Place in your checked baggage   :
    All liquids, gels, creams, pastes and aerosols you want to take in food or cosmetic use and any prohibited items in cabine.
    All prohibited objects. Checked Baggage will be carried free in the hold to a certain limit (weight or number depending on the company) called franchise varies depending on the company and type of ticket. In addition, you must pay an additional fee per kilo or additional baggage.  
Prohibited and restricted objects   
Caution! Observe the safety instructions  related to risk of fire or explosion specified on your ticket or displayed above the counter and leave nothing or clinging to exceed your luggage (gourd, belt, ...) to prevent it deterioration.