11/25/2020 - 11:06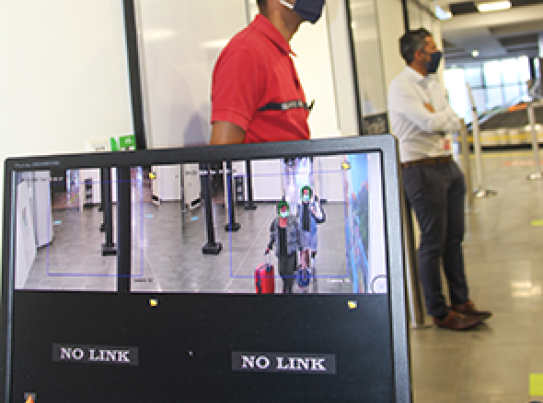 Reunion's Roland Garros Airport is fully compliant with EASA's (European Aviation Safety Agency)
Reunion's Roland Garros Airport is fully compliant with EASA's (European Aviation Safety Agency) Covid-19 protocol and, since the beginning of the epidemic, has been implementing health measures to protect passengers, those accompanying them, and all staff across all airport facilities.
Since the beginning of the pandemic, the Société Aéroportuaire has been working alongside French and European airports (Paris-CDG, Nice, Frankfurt, Brussels, etc.) in order to develop a common health protocol. This approach was coordinated and drawn up collectively and by the month of May, in conjunction with the ECDC (European Centre for Disease Prevention and Control), the most effective measures were defined to reduce health risks related to air transport, specifically within the confines of airports and on board aircraft. The Société Aéroportuaire works closely with the Indian Ocean Civil Aviation Safety Directorate (EASA's point of contact in Reunion Island) to ensure that all measures implemented by Reunion's Roland Garros Airport fully comply with European recommendations. A fully operational health corridor has been set up between airports in Paris and Reunion Island.
Thermal cameras to be activated for arrivals from 23rd September
EASA's protocol notably encourages the widespread use of contactless technology and innovations to limit the spread of the virus and boost traveller confidence. With this in mind, Reunion's Roland Garros Airport has decided to reinforce existing health protection measures by installing thermal cameras. This equipment detects any body temperature higher than 38° among passengers walking past. Two cameras are located at the exit of the baggage reclaim hall. They are controlled by airport staff who will approach any person who triggers the camera in order to offer to take a forehead temperature reading, or even to recommend that they seek medical advice if they have symptoms.
No personal data is collected during these checks and no recordings are kept from the camera surveillance. Passengers are informed in advance of the presence of these cameras and the temperature checks.
Travel responsibly
Reunion's Roland Garros Airport invites all passengers and those accompanying them to respect sanitary measures in and around the terminal building. As a reminder, it is compulsory to wear a mask as soon as you enter the public terminal building, where there are numerous hydro-alcoholic solution dispensers available for people to disinfect their hands. Floor markings indicate the minimum distance to be respected when queuing, and there are regular loudspeaker updates and various signs informing people of the right behaviour needed to prevent the virus from spreading. At every stage of the passenger's journey, both in departures and arrivals, all possible points of contact with hands (such as ramps, door handles, lift buttons, baggage drop-off bins for X-ray checks, etc.) have been identified, and are therefore prioritised by our teams in charge of cleaning and disinfecting the buildings.
All of the airport's shops and restaurants have also implemented protocols, coordinated with airport services, to make the passenger experience as smooth and as safe as possible. With responsible behaviour from everyone involved, these precautionary measures will be even more effective, so that passengers can travel with complete peace of mind.
Related releases