02/12/2021 - 09:58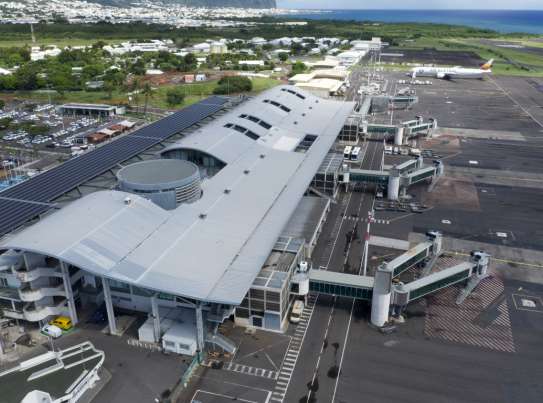 January 2021: half as many passengers as in January 2020
Reunion's Roland Garros airport welcomed 120,800 passengers in January 2021, which was a 50.7% decrease compared to January 2020.
Most activity was concentrated on flights between mainland France and Reunion (103 508 passengers), which still recorded a 21% drop in traffic compared with the previous year. On flights between Reunion and Mayotte (by Air Austral and also Corsair since last December), activity remained stable at the beginning of the year. January saw 15,478 passengers fly between Saint-Denis and Dzaoudzi, a drop of only 2.2% compared to January 2020. Of the other destinations in the region which ran to and from Reunion's Roland Garros Airport before the pandemic, only a few flights from Mauritius (284 passengers) and Tananarive (279 passengers) took off.
All flights to China, India, South Africa, the Seychelles and Thailand are still closed.
Since the end of January, major restrictions have again been imposed on travel to and from Mayotte and mainland France, leading to an even greater decline in the number of passengers on these routes.
Even though freight activity fell by 10.6% in January (1,859 tonnes shipped), the impact was still less than for passenger traffic. During the first month of 2021, imports fell by 16.6% (1,859 tonnes), but exports increased by 6.3% (574 tonnes), following an exceptionally good fruit export season at the end of 2020.
Just over one million passengers in 2020
During 2020, the activity of Reunion's Roland Garros Airport fell by 58.2%. The airport welcomed 1,040,139 passengers (similar to levels seen in 1993), compared with almost 2.5 million in 2019. After increases in January and February 2020, numbers plummeted from March onwards, when the Covid-19 pandemic led to the progressive closure of borders. On flights between mainland France and Reunion route, which never fully came to a halt, the drop in the number of passengers was 47.5%. This reached a decrease of 72% on flights within the region, all of which were closed from the end of March, with the exception flights to and from Mayotte.
Activity only resumed for a very limited number of flights to Mauritius and Madagascar from the end of the third quarter, mainly for repatriations of French or nationals of those two countries.
Long-haul flights to Bangkok (Thailand), Chennai (India) and Guangzhou (China) were the most affected. Closed since January (Guangzhou) and March (Bangkok and Chennai), numbers to these destinations fell by an average of 81%.
In the cargo sector, the drop in activity resulting from the reduction in the number of passenger flights, and therefore in hold capacity, was partially offset by special all-cargo flights by Reunion's regular airlines, but also by airlines that used Roland Garros Airport for the first time on this occasion (KLM, Condor, TUI Belgium, Air Europa, Kenya Airways...).
During 2020, the tonnage handled (24,185 tonnes) fell by 16.9%. The decline was less marked on the export side (-12.6%) than on the import side (-18.7%), thanks to shipments of pelagic fish and a particularly abundant fruit production at the end of the year which required special cargo flights to Paris. In the month of December 2020 alone, exports by air from Roland Garros increased by 13.2%.
Related releases