09/15/2020 - 10:17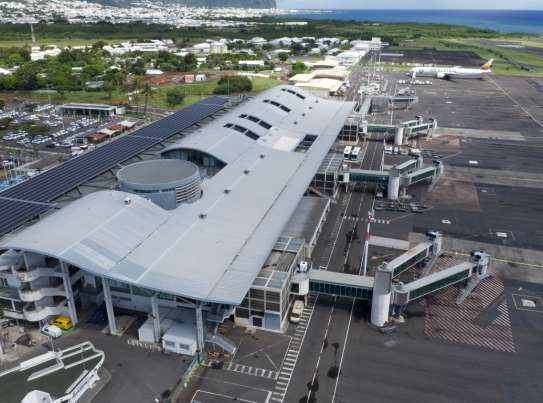 Given the exceptional context of the Covid-19 pandemic, Reunion's Roland Garros Airport welcomed just 179,578 passengers during July and August 2020, a 65% drop compared to the same period in 2019. Most of these travellers flew between Reunion and Paris with Air Austral, Air France, Corsair and French Bee.
Just over 9,900 passengers (5.5% of the total) took flights between Reunion and Mayotte. 409 passengers were also listed on repatriation flights to and from Mauritius and Madagascar.
Since March, commercial traffic has been at a full standstill between Roland Garros Airport and countries across the Indian Ocean, South Africa, India and Thailand, and the flight connection to Guangzhou (China) has been closed since January. Commercial flights to Mayotte gradually resumed at the end of June, after having initially been provided by flights operated at the request of the French government. Compelling reasons are still needed to travel between the two French Departments in the Indian Ocean.
On flights between Paris and Reunion, commercial traffic resumed gradually from the beginning of July, following the cancellation of rules requiring passengers to have a compelling reason to travel and also the end of the cap on passenger numbers per flight. Nevertheless, activity remained in sharp decline - in July, the number of passengers fell by 52% compared to 2019. This drop was less marked in August (-38%)
Half as many passengers as in 2019
Cumulative traffic (passenger numbers) for the first eight months of the year is down 54.5%: 725,382 local passengers (either starting or ending their journey in Reunion) have come through Roland Garros Airport since 1st January, as well as 3,865 transit passengers. The drop in passenger numbers ranges from 60 to 70% between our island and regional destinations, as well as on the long-haul routes to Chennai (India) and Bangkok (Thailand). Traffic to China has fallen by more than 90%, with only a few flights operated in January between Reunion and Guangzhou.
For the moment, no country with direct flights to Roland Garros Airport has announced the reopening of its borders to French travellers.
A limited decline in freight activity
In the freight sector, the drop in activity was -23% at the end of the first eight months of the year. 13,520 tonnes of goods have been handled at Roland Garros Airport since 1st January. Imports (10,302 tonnes) and exports (3,218 tonnes) have fallen to the same extent.
Tonnage handled on commercial flights have fallen by 29%, while they have increased by 25% on cargo flights. To cope with the drop in carrying capacity, linked to the cancellation of many commercial passenger flights, special flights were set up in the second quarter of 2020 by Air France, Air Austral, French Bee and Air Mauritius, but also by several European (KLM, Condor, TUI Belgium, Air Europa) and African airlines (Kenya Airways).
For the month of August alone, freight activity decreased by 14% in tonnage, compared to 2019.
Related releases