All professions that serve to:
 
    - Anticipate changing needs by carrying out development studies and optimising and/or developing infrastructure and facilities,

    - Ensure the compliance, availability and operations of the infrastructures and facilities,

    - Maintain long-lasting quality across the airport premises.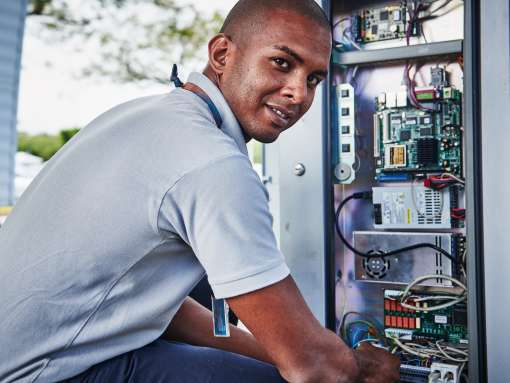 STUDIES AND WORKS OFFICER
The Studies and Works Officer represents project owners or project manager, ensuring that standards and rules are respected at all times. He/she analyses and designs projects, proposing adjustments and regulatory measures required to manage costs and improve service quality in accordance with the airport's strategic guidelines.
Skills
Computer software: Excel, Power Point, MS Project, Autocad, MapInfo, QALITEL, etc.
Standards and regulations in construction and the environment,
National and international aviation regulations,
Technical Instructions for Civil Aerodromes, CHEA (Aerodrome Operating Procedures),
Regulations for establishments open to the public,
Public Procurement Code, CCAG PI (General Administrative Clauses for Intellectual Services),
Knowledge of architecture,
Knowledge in the field of sustainable development,
Good level of English.
Key missions
To carry out technical studies of projects (installations and equipment), determine the technical processes, implementation methods, costs and deadlines,
To ensure the coordination of operations, monitor quality in accordance with the specifications from a technical, financial and regulatory point of view, acting as the project owner's representative in all phases of the operations until its delivery,
To monitor studies and construction sites, working with both superiors and various partners and service providers while ensuring compliance with specifications,
To establish and maintain operational workflow charts to monitor the budget in real time,
To draft technical specifications in all areas of his / her responsibility.
Read more
MULTI-SKILLED GREEN SPACE WORKE
He / She is responsible for carrying out all tasks related to maintaining the apron, such as the development and upkeep of green spaces.
Skills
Knowledge of the professional techniques of the trade, of the equipment used, of workshop-related professions,
Ability to work in a team,
Ability to adapt,
Agility and precision.
Key missions
To maintain all the fencing of airport perimeter as well as mowing the grass around the runways and the aircraft parking areas in compliance with safety and security regulations,
To participate in the maintenance of work tools,
To maintain the equipment and premises in perfect working order by actively participating in their cleaning and by carrying out the usual checks on the equipment,
To report back on activity and work progress and report any non-conformities encountered.
Read more
MAINTENANCE TECHNICIAN
He / She is responsible for ensuring that the equipment and buildings are maintained in order to ensure the optimal conditions for passenger operations.
Skills
CAP/BEP to BAC PRO in building maintenance
Key missions
To carry out maintenance work based on a pre-established schedule or not,
To prioritise immediate and timetabled interventions,
To take into account the operating constraints in all interventions,
To maintain work tools (equipment, tools, premises) in perfect working order by actively participating in their cleaning and maintenance,
To accompanying subcontractors and assess services provided.
Read more