From Reunion to Sainte-Marie Island, the jewel of Madagascar!
Located about ten kilometres off the east coast of Madagascar, and with direct flights from Reunion Island, Sainte-Marie Island is a small natural gem well worth checking out!
Authentic and unspoilt, the 49km long island boasts a myriad of idyllic picture postcard scenes. Travellers from Reunion Island will be fascinated on one hand by the island's beauty and luxurious tranquillity, but also by the kind and smiling islanders living there.
With endless stretches of pristine beaches and a multitude of small fishing villages, colourful sunsets will give you time to sit back serenely and contemplate the moment.
Also known as Nosy Boraha, the island of Sainte-Marie is made up of several islets, all protected by an exceptionally diverse coral reef. Snorkelling and scuba diving are particularly popular activities, and a wonderful opportunity to admire the many turtles which inhabit these waters.
For lovers of tropical flora, the island's fairly high seasonal rainfall provides the perfect conditions for the lush verdant nature to flourish. The forest of Ikalalo is a small paradise for orchids, for example. Another activity not to miss is the dugout canoe trip across the mangroves in Ampanihy, a really relaxing day out.
Just a few hundred meters from Sainte-Marie lies Ile aux Nattes, the final argument to make you fall in love with the place. Only accessible in dugout canoes, this true paradise island keeps its distance from modernity, and this may be what makes the place so charming.
Read more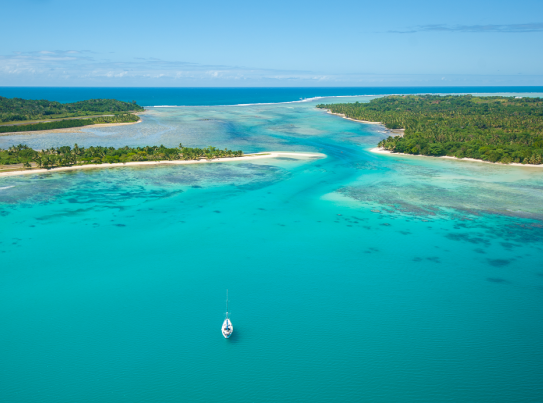 The essentials of the destination

Distance
756 km

Flight time
1h21

Flight schedule

Meteo and climate

Time zone difference
-1h

Langage
Malgache and French
Currency
Ariary Malgache
Sharing experience in Sainte-Marie Island
When you arrive, get yourself a fresh coconut water, kick back on the beach and let yourself be swept away by the calm and serenity of the place. A visit to the island of Sainte-Marie is like a dream!
Photo de profil

The island of Sainte-Marie would not be much without the kindness and gentleness of its inhabitants. The locals speak Saint-Marien, a language mixing both French and some Malagasy dialects, and they are always willing to share tips and chat with you!
Photo de profil