All the way to Marseille from Reunion Island: welcome to the Phocaean city
Let yourself fall under the charm of the town's singsong accent and the world-beating warm welcome of its locals... Welcome to Marseille!
The best way to really enjoy the special atmosphere of the Mediterranean coast is to stroll through the picturesque districts of France's sunniest city. Whether along its Old Port or in the steep backstreets of Le Panier, you will be charmed by Marseille's cosmopolitan and lively atmosphere.
For a few days or more, the picturesque city will enchant you with its cultural scene, lively nightlife and Mediterranean cuisine. European capital of culture, the town is home to several dozen museums, including the MuCEM, a real must for any visitor coming to Marseille from Reunion Island.
As the sunlight fades away, the streets of Marseille come alive and the bistro terraces fill up, giving you the ideal opportunity to settle in comfortably at one of the city's many typical restaurants to taste THE local specialty: bouillabaisse of course!
Finally, don't miss the opportunity to pay homage to Notre-Dame de La Garde and enjoy a spectacular view across the Phocaean city.
Marseille is also the ideal place to visit the region of Provence-Alpes-Côte d'Azur, with hundreds of hiking footpaths for those looking for some idyllic creeks, the locations of which are still a closely guarded secret... Just enough to remind you of life back home in Reunion! With several direct flights per week from Reunion Island, the sunny destination of Marseille will continue to warm the hearts of people from Reunion for a long time to come!
Read more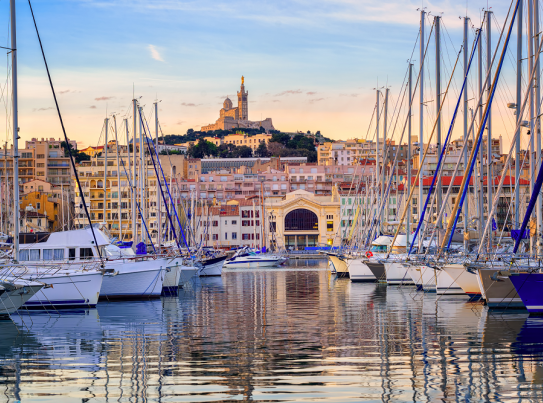 The essentials of the destination

Distance
8 798 km

Flight time
10h20

Flight schedule
2 flights per week

Weather and climate

Time zone difference
-3h (winter) -2h (summer)

Langue
le français
Currency
Euro
Sharing experience in Marseille
They say that the best way to discover Marseille is to cook up all its best ingredients, so why not try out a Mediterranean cooking workshop - a really great experience! It's the ideal way to learn more about this unique relationship between the people of Marseille and its gastronomy, while enjoying yourself at the same time!
If you ever get the opportunity to attend a football match at the Velodrome Stadium during your stay in Marseille, just go for it! Football is a way of life here (along with pétanque!) and the players in blue and white are real heroes. It's an absolutely magical experience!