FROM REUNION ISLAND TO DIEGO SUAREZ, MADAGASCAR'S ADVENTURE HOTSPOT
With direct flights from Reunion Island, Diego Suarez in Madagascar is an ideal starting point for travelers looking for the great outdoors, as well as some heavenly beaches!
Located on the northern tip of Madagascar, Diego Suarez (Antsiranana) is less than a 30 minute flight away from Nosy Be.

Madagascar's third largest port, Diego Suarez is worth a visit for its colonial architecture, but its breathtaking landscapes both on land and at sea have made this region famous all over the world.

Sakalava Bay, Bay of Dunes... Those looking to lounge around on idyllic beaches will be spoilt for choice here, thanks to the many natural coves that can be found dotted along Madagascar's northern coastline. Nicknamed the Emerald Sea, Diego Suarez is home to some of the most beautiful stretches of white sand in the world, the most famous of which is Ramena beach. And when you're not sunbathing, why not try out a few spots which are ideal for kitesurfing and diving?

Don't miss the chance to venture out into Madagascar's inland regions. From Diego Suarez, there are several exceptional natural sites on offer. One of the must-see places is the Tsingy Rouges, the ochre-coloured rocky peaks that are the pride and joy of this northern part of the island. There is also the Ankarana Special Reserve or the Amber Mountain National Park, boasting a number of exotic experiences for lovers of endemic fauna, including the notable colonies of lemurs, Madagascar's most emblematic symbol!

With direct flights from Reunion Island, Diego Suarez (Antsiranana) stands out as an adventure destination and an ideal region for lovers of the great outdoors.
Read more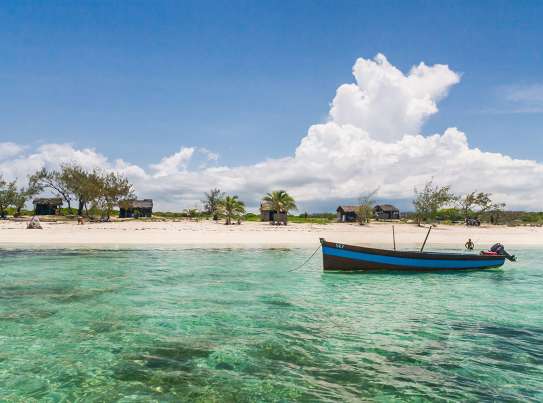 The essentials of the destination

Distance
1 181 km

Flight time
1h21

Flight schedule

Weather and climate

Time zone difference
-1h

Language
Malagasy and French
Currency
Ariary Malgache
Sharing experience in DIEGO SUAREZ
The emblematic symbol of Diego Suarez and this region of Madagascar, Pain de Sucre is a volcanic island. As if delicately positioned in the middle of this huge bay, the island plays host to several sacred ceremonies which take place all year round. Access there is formally forbidden, but you can take a boat trip to get a better idea of the island's spiritual dimension. A real must!.
From the end of March until November, the north of Madagascar is a perfect spot to learn how to kitesurf. In particular, Sakalava Bay is known worldwide thanks to its ideal weather conditions. Several clubs and hotels offer courses for all levels, and you're sure to get a truly unique experience!