FOR TRIPS TO INDIA FROM REUNION ISLAND, HEAD FOR CHENNAI !
For flights from Reunion Island's Roland Garros Airport to India, head for Chennai! The capital of Tamil Nadu, this city is an ideal base camp for any trip to South India.
From Reunion Island, India is a destination that can be both daunting and fascinating. A land of contrasts, the world's second most populated country (after China) always leaves its mark on every visitor.

Amid the horns and clamours of the city's tuk-tuk drivers, the heady (and tempting!) smells of spicy food, the dazzling colours of saris skilfully worn by Indian women and the nonchalance of the sacred cows dotted on every street corner, a visit to India is sure to awaken every one of your five senses.

The world's epicentre for Hinduism, with more than a billion followers, India is also home to many architectural treasures. Countless temples are to be found here, there and everywhere, and the curious are rewarded and amazed by these colourful places of pilgrimage.

Direct flights connect Reunion Island to Chennai, the capital of Tamil Nadu, an Indian megalopolis of nearly 5 million inhabitants. Known in particular for its fabrics and flea markets, the city is an ideal starting point for any visit to South India.

Take a stroll through the lively streets of Pondicherry, admire the most beautiful sunsets from the beaches of Goa, lose yourselves in the beauty of Kerala's landscapes, and attend religious ceremonies in the heart of the Sri Meenaski Temple in Madurai... One trip is not enough to experience everything that Southern India has to offer. With direct flights from Reunion Island, India has so many surprises in store for you - Namaste India!
Read more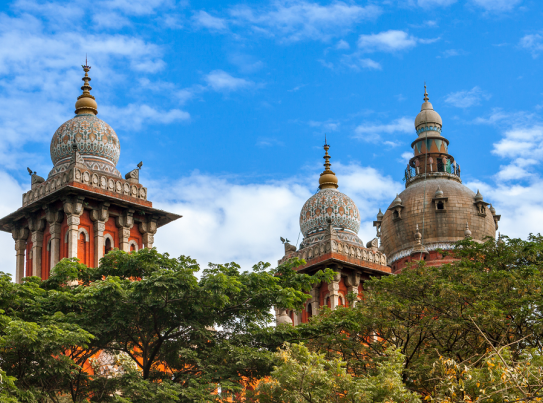 The essentials of the destination

Distance
4 662 km

Flight time
5h26

Flight schedule
1 to 2 flights per week

Weather and climate

Time zone difference
+ 1h30

Language
Hindi and English
Currency
Roupie indienne
Sharing experience in CHENNAI
Also celebrated in Reunion Island, Pontal is one of the most popular festivals in South India. A harvest festival lasting several days, it's the perfect opportunity to taste traditional dishes and to stroll through the vast market located in Island Grounds, Chennai.
Prénom et nom
Sonia et Vincent
You can't visit South India without tasting the dosas! These delicious pancakes, made from lentil or chickpea flour, can be enjoyed all day long either with a sauce or accompanied by a sambar, a spicy curry typical of South India. A real taste explosion!