02/01/2021 - 17:43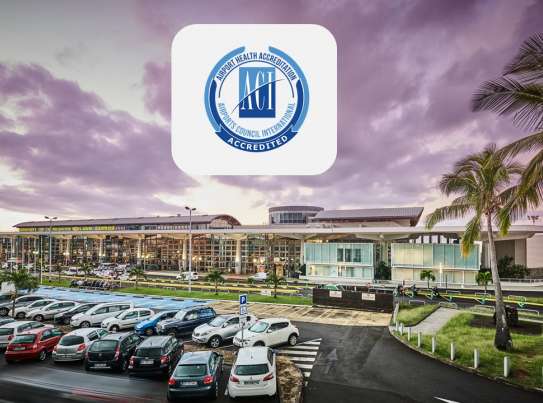 This high-level international certification rewards the efforts of the Société Aéroportuaire to guarantee the health and safety of passengers and staff at the airport.
Roland Garros Airport is the first overseas airport and the fourth French airport to obtain the Airport Health Accreditation, after Paris Charles-de-Gaulle, Orly and Nice-Côte d'Azur.
This demanding certification was awarded on 27th January by Airports Council International (ACI). The Airport Health Accreditation certifies to the excellence of health measures implemented within airport facilities in order to deal with the Covid-19 pandemic. It is awarded following an assessment audit covering all processes and areas of the airport, from access to terminals and boarding bridges, check-in counters, various checkpoints, shops, catering outlets, etc.
"Obtaining the Airport Health Accreditation is a reward for the commitment of our teams and confirms the effectiveness of measures we have taken to ensure the health and safety of passengers and staff," emphasises Guillaume Branlat, Chairman of the Board of the Société Aéroportuaire.
As the main gateway to and from the island, Roland Garros airport must do everything possible to prevent the virus from spreading within its facilities and to help detect positive cases. These actions will continue over time in order to guarantee health security when travel restrictions are gradually lifted. Passengers will then be able to travel by air with confidence and the airport will contribute to reinforcing the reassuring and safe image of Reunion Island as a destination.
European protocol and thermal cameras
Since the beginning of the pandemic, Roland Garros airport has been implementing preventive measures in all its facilities in strict compliance with the Covid-19 protocol of the European Aviation Safety Agency (EASA), in relation with the Indian Ocean Civil Aviation Safety Directorate. Since the beginning of the pandemic, the Société Aéroportuaire has been involved in the development of this protocol, alongside French and European airports.
The airport is constantly adapting to the changing situation and the regulations put in place to combat the pandemic. As early as September 2020, thermal cameras were positioned to detect abnormally high temperatures among arriving passengers. In November, the airport company recruited two nurses, able to intervene in emergency situations and responsible for taking part in training and awareness-raising activities on health security and public health.
At a time when Reunion must fight against new variants of the virus coming to the island, Roland Garros Airport is continuing to call on passengers and the general public who use the terminal buildings to behave responsibly by strictly respecting social distancing and sanitary measures.
Latest releases