From Reunion Island to Tananarive (Antananarivo), the capital of Madagascar
As the starting point for any trip to Madagascar from Reunion Island, a trip to Tananarive (Antananarivo) will immediately immerse you into the daily life of Madagascar!
Surrounded by its 18 hills, the city of Tananarive is quite surprising at first glance. Here, everything is new, including the truly unique atmosphere. An undiluted insight into what the rest of Madagascar has in store for you!

Antananarivo used to be referred to as the 'Pearl of the Indian Ocean', but while it may have lost some of its former splendour, it will still charm you before you head off to explore the rest of Madagascar.

Criss-crossed by impressive stairways that connect the many districts of 'Tana' (as the locals call it!), this will surely put your calves to the test!

The picturesque districts of the Upper Town bear witness to a rich past, none more so than in Faravohitra. Wandering through its winding streets is the ideal opportunity to fully appreciate the citie's architectural diversity. In the district of Andalho, don't miss out on a visit to the Queen's Palace - although it has been under construction for years, the spot boasts stunning views across Tananarive.

The Lower Town is the heart of this hustling, bustling megalopolis of 2 million inhabitants. There are many markets, including Analakely, the largest in the city. This recently renovated neighbourhood is worth a visit. It is here, between the constant traffic and the hubbub of voices that you will really feel the beating heart of Malagasy daily life.

When extending your trip to Madagascar from Reunion Island, why not check out the beaches of Sainte Marie or Nosy Be (insert link to pages Destination Nosy Be and Sainte-Martie), ideal havens of peace and quiet to calm down and recover? And then you can visit the rest of the island!
Read more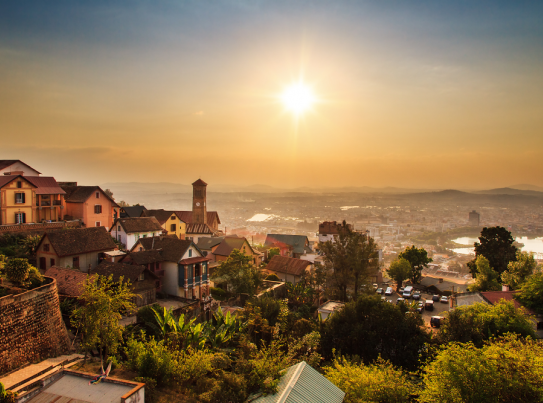 The essentials of the destination

Distance
874 km

Flight time
1h35

Flight time
6 flights per week

Meteo and climate

Time zone difference
-1h

Languages
Malagasy and French
Currency
Ariary Malgache
Sharing experience in Tananarive
For foodies, there is one thing not to miss in Antananarivo: the restaurants! The range of choice is incredible, from small snack bars to gourmet restaurants. A great way to discover all the variations of Madagascar's the delicious and mixed cuisine.
For a truly immersive visit of 'Tana', hire a guide. Without them, the city is not easy to tame and the guides, as well as putting you at ease, have stories and anecdotes to teach you all about the turbulent history of this famous capital. For this, simply contact the Tourist Office of Tananarive"
Prénom et nom
Pascale Grondin