Head off to the East coast of Madagascar: direct to Tamatave from Reunion Island
Located not far from the beautiful island of Sainte-Marie, Tamatave, also known as Toamasina, is Madagascar's largest port city. Naturally looking seawards, the city is nonetheless a fascinating place to explore before continuing your stay along the country's east coast.
With its 250,000 inhabitants, Tamatave is the second largest city in Madagascar. A major trading post, it is from here that the country's many fruits and spices are exported. Shaped by its history, a stroll through the old town and its picturesque streets is an interesting experience. In particular, Place Bien Aimé is home to old colonial buildings surrounded by dozens of sacred, century-old banyan trees, and a particularly popular place for domino players.

To get a good feel of local life, hop onto one of the city's many rickshaws and head off to the markets. Located in the heart of the city, the three big markets of Tamatave are 'Bazar Ankirihiry', 'Bazar Kely' and 'Bazar Be'. The first is probably the largest - here you will be swept away by the smells, noise and colours that fill the atmosphere of these everyday places. An experience for all senses and a promise of the exotic!

If you looking for peace and quiet, check out Plum Island or Nosy Alanana. Accessible in less than an hour by boat from Tamatave, this oval-shaped island is 400 metres wide and surrounded by exceptional coral reefs. It feels like a secret lost paradise, and is the very definition of luxury! Between two snorkelling outings, don't miss the climb up to its lighthouse - even though its 300 steps may discourage some, the view from the top is stunning!

If you enjoyed the underwater world during your visit to Plum Island, then why not continue your trip up the east coast of Madagascar, heading northwards up to Foulpointe. This seaside resort, right opposite the island of Sainte-Marie, boasts an array of picture postcard beaches. Particularly popular with the locals, this place really comes alive at weekends when families flock here to enjoy the clear, shallow waters.
Read more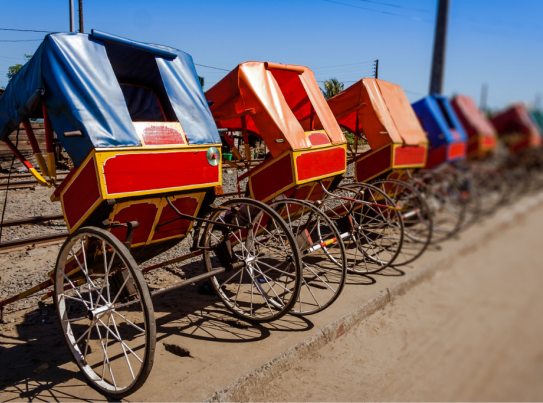 The essentials of the destination

Distance
722 km

Flight time
1h50

Flight schedule

Meteo and climate

Time zone difference
-1h

Languages
Malagasy and French
Currency
Ariary Malgache
Sharing experience in Tamatave
At sunset in Tamatave, take a seat next to the Mosque at the moment the muezzin starts to chants, and admire the faithful as they leave their domino games and make their way to this place of worship.
A real must during your trip to Tamatave from Reunion Island is a visit to Ivoloina Park. It's a great way to support environmental protection, specifically of Madagascar's emblematic animal: the lemur, of course! One word of advice - do make sure you go with a local guide.
Prénom et nom
Irina et Mathieu