Direct to Orly from Reunion Island: head to Paris, the capital of love!
The French capital of love, Paris opens its arms to visitors for a trip to the City of Lights!
From Reunion Island's Roland Garros airport, there are several direct flights to Orly operating every day. Whether for holidays, work or to visit relatives in Mainland France, the world's most beautiful city has never been so close!

While any visit to Paris is of course a great opportunity to marvel at its emblematic buildings and avenues such as the Eiffel Tower, the Sacré Coeur or the Champs-Elysées, the capital boasts a host of other reasons to stick around for a few days.

After all, one aspect that makes this destination so charming is that Paris really does have something for everyone! For example, enjoy the gourmet side of Paris by sitting in a typical brasserie or in one of the city's many Michelin-starred restaurants. Explore historic Paris by visiting Notre-Dame Cathedral or the catacombs. Experience the lively side of Paris on a fun night out in the heart of the Latin Quarter! Or why not go for a more romantic vibe with a dinner cruise on a barge on the river Seine. Paris: a myriad of things to do and see!

Located around 15 kilometres from the city, Paris-Orly airport is France's second largest airport after Paris-Charles de Gaulle. With excellent transport links, you can easily reach the centre of Paris on board the Orly Bus.

Several other bus lines and shuttles from Paris-Orly will take you wherever you want! From Disneyland Park to the Massy-TGV train station for a getaway in the provinces with the combined TGV+Air deal, the whole of France is at your doorstep! Another great reason to extend your stay in France!
Read more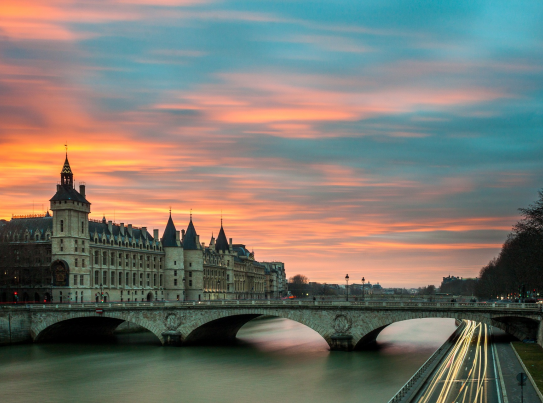 The essentials of the destination

Distance
9 376 km

Flight time
11h

Flight schedule
1 to 3 flights per day

Meteo and climate

Time zone difference
-3h (in winter) -2h (in summer)

Language
French
Currency
Euro
Sharing experience in Paris - Orly
Just 10 minutes from Paris Orly airport, a visit to Rungis market is a great opportunity for quite an unusual experience! The city's largest fresh produce market can be visited every day early in the morning - a top idea for an activity if you're in the area!
If you only have a few hours to visit Paris, then why not try out Citroen 2CV ride through the capital's prettier streets. It's an excellent and fun way to see the city's most beautiful monuments in an authentic French atmosphere. It may be a cliché, but give it a shot!
Prénom et nom
Aurélie et Arnaud