With direct flights from Reunion Island, you're sure to succumb to the charms of Nosy Be!
Situated in the north of Madagascar, this archipelago is made up of one main island, Nosy Be, and a multitude of islets scattered around it (Nosy Komba, Nosy Tanikely, Nosy Iranja...), and is an idyllic destination full of picture postcard scenes.
Known in particular for its lush verdant nature, its heavenly beaches and its well-preserved marine environment, Nosy Be is an ideal getaway for travellers looking for a trip that promises both outdoor activities and lounging around on the beach. And all this less than 2 hours' flight from Reunion Island's Roland Garros airport.
Travelling to Nosy Be from Reunion Island is a wonderful opportunity to learn all about how Ylang-ylang is grown. This intoxicatingly fragrant flower is grown all over the island, and you can even meet its producers. Another must-see is the stunning panoramic view from the top of Mount Passot, the island's highest summit looking out over the Mozambique Channel - it's particularly memorable when seen at sunset.
Finally, don't forget to stroll around Hell-Ville for an authentic feel of local life. As Nosy Be's capital, this bustling town is great to visit all year round, whether early in the morning in the marketplace or late in the evening for lively nights out!
Read more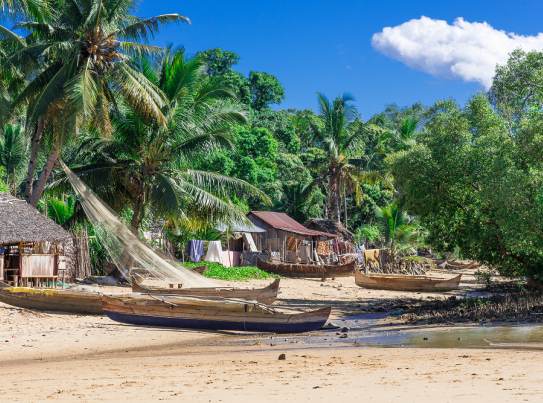 The essentials of the destination

Distance
1 160 km

Flight time
1h30

Flight schedule

Weather and climate

Time zone difference
-1h

Language
Malgache and French
Currency
Ariary Malgache
Sharing experience in NOSY BE
Nosy Be is an ideal place to do your first ever scuba dive, as the flora and fauna on show are truly exceptional. Specifically, Nosy Tanikely is the number one dive spot, well-known all over the world. Located in the heart of a marine reserve, Tankiley always wows visitors with a magical experience amidst an abundance of coral and colourful fish.
Depending on the season, it is also possible to swim with the world's biggest fish, the harmless buy mythical whale shark - a truly magical moment!
Photo de profil