Fly from Reunion to Lyon, and get to know the city of lights!
A new destination to discover from Reunion airport, Lyon is popular for its relaxed way of life and for its delicious food!
Your adventure in Lyon begins at Place Bellecour: this huge pedestrian esplanade is in the heart of the city. With a bit of luck, the famous Ferris wheel will be set up there to give you a stunning panoramic view over the town and its suburbs - an ideal starting point before exploring the city and its districts!
The old town boasts 300 historic buildings, and is quite reminiscent of Little Italy. In this picturesque district, stroll around with eyes pointed skywards to admire the many gargoyles on the building façades. Don't miss the Saint-Jean Cathedral or the lovely Place de la Trinité - one of the city's main attractions is hidden behind its doors. Known as 'traboules', these passages are corridors built between two streets and running through the courtyards of buildings, and there are several hundred of these architectural gems in 'Vieux Lyon'. It's up to you to discover them!

For the more courageous, why not climb up to the Fourvière Basilica at the end of the day - there's a funicular railway if you don't want to walk! In any case, you'll enjoy a breath-taking view of Lyon from the top. It's also an ideal way to digest your meal, as another of the city's attractions lies in its famous 'bouchons lyonnais'! These typical restaurants are the beating heart of Lyon's gastronomy. Whether eating quenelles, grattons, or cervelle de canut, the menus form the culinary heritage of the former capital of Gaul. And let's face it, the generosity of Lyon's dishes has always made the city's reputation - a bit like our Reunionese gastronomy, after all! Something in common between Reunion and Lyon!

Finally, for lovers of fashionable boutiques, Croix-Rousse is the city's trendiest spot. In the evening, the streets of this district, long inhabited by the workers of the silk factories, come alive and numerous wine bars and restaurants become the haunt of Lyon's night owls.

It may be home to France's 3rd largest population, but it's very easy to get used to. A new destination to discover from Reunion Island, Lyon will make you roar with pleasure!
Read more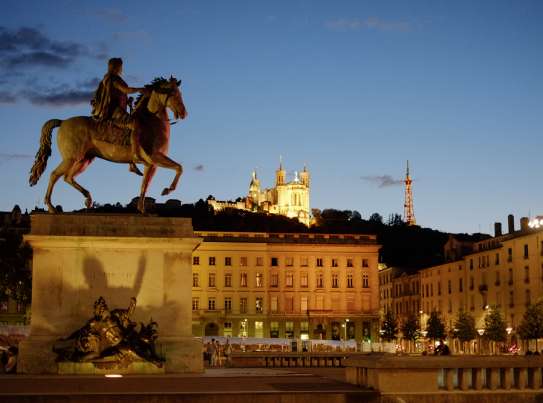 The essentials of the destination

Distance
9 563 km

Flight time
12h15

Flight schedule
2 flights per week

Meteo and climate

Time zone difference
-3h (in winter) -2h (in summer)

Language
French
Currency
Euro
Sharing experience in Lyon
If you are one of those looking for a great gourmet experience, I suggest you do a food tour of Lyon with Praline et Rosette. Several culinary outings are organized to discover the best addresses and lesser known places, and all in a fun atmosphere - a 100% gourmet experience!
Prénom et nom
Marion Demoulin
What I particularly enjoy in Lyon is taking advantage of its natural areas. Hire a bike and ride up the banks of the Rhône all the way to the Tête d'Or. 117 hectares of nature, and France's largest urban park - a little green paradise!
Prénom et nom
Julie Montet