DIRECT FROM REUNION ISLAND TO BANGKOK, THAILAND'S LIVELY CAPITAL CITY
From Reunion Island's Roland Garros Airport, fly direct to the capital of Thailand, Bangkok, the city that never sleeps! 
The starting point for any trip across Thailand from Reunion Island, Bangkok and its 10 million inhabitants is the perfect place to discover the hustle and bustle of Asia's huge megacities.

While most travellers tend to prefer trekking in the jungles up north or lounging on the sumptuous beaches down south, Bangkok is nevertheless well worth a visit for a few days at least.

Known all over the world for its dynamic and multicultural vibe, the city really has something for everyone, especially those looking for great shopping, tasty street food and a bustling nightlife. In a joyful maelstrom of noise and colour, travellers will be enthralled by this exotic experience of sights, sounds and smells...

To get around town, simply use local transport. There are countless water taxis that meander along its river, the Chao Praya, affectionately known as the 'Venice of the East'. On land, take a tuk-tuk and let yourself be swept away by the frenzy of the City of Angels and its inhabitants. The ideal opportunity to follow the hectic rhythm of city life in Thailand!

But Bangkok is so much more than a dynamic modern city, and visitors would be wise not to overlook the countless cultural and religious gems the city has to offer. Its Buddhist temples never cease to amaze with their rich ornamental style - don't miss out on the famous Wat Pho temple and its 46-metre long Buddha statue, entirely covered in gold. Pretty stunning…

But if you're likely to fall under Bangkok's magic spell, don't hang around too long - the rest of Thailand is waiting for you!
Read more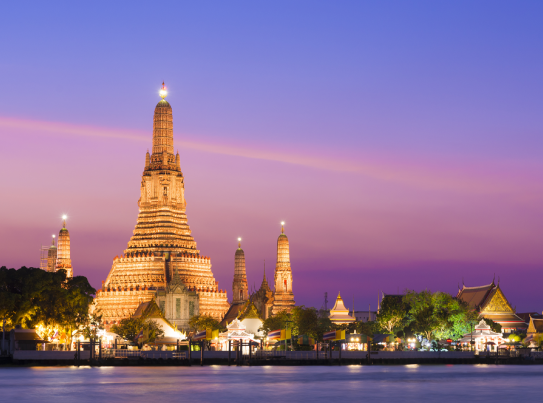 The essentials of the destination

Distance
6 252 km

Flight time
7h55

Flight schedule

Weather and climate

Time zone difference
+3h

Language
Thai
Currency
Baht thaïlandais
Sharing experience in Bangkok
For those visiting Thailand from Reunion, make sure you check out the colourful stalls of Bangkok's many markets - Chatuchak, for example, is one of the largest markets in the world, held every weekend and bringing together no less than 200,000 people.
One piece of advice: before diving in, make sure you take a photo of the map of the market first!
Prénom et nom
Amélie Laurent
Several French-speaking guides organise excursions at nightfall, an ideal way to discover the capital in a new light. It's also a great opportunity to (re)visit the famous temples of Wat Arun and Wat Pho, both lit up at night, and with fewer people than usual, which is a rare luxury worth taking advantage of!
Prénom et nom
Loïc Roussel