To the Seychelles from Reunion Island: THE number one paradise destination!
With less than a 3-hour flight from Saint-Denis de La Réunion, the Seychelles is a legendary archipelago with idyllic picture postcard scenes. Are you looking for a place to sit back and unwind? Look no further: the Seychelles ticks every box!
The Seychelles is made up of no less than 115 islands, with a land surface area of 455 km2, which means you're spoiled for choice of heavenly spots to see! For those heading to the Seychelles from Reunion Island, the rocky granite islands (known as the inner islands) such as Mahé, Praslin and La Digue are at the top of the list. Their dream beaches, such as Anse Intendance or Anse Source D'Argent are perfect spots to relax and recharge your batteries, and particularly recommended for honeymooners…

But make no mistake: the Seychelles is also great for other activities! Outdoor enthusiasts will be delighted to explore its lush natural environments, both on land and at sea.

Aware of the beauty and fragility of its natural heritage, the people of the Seychelles are keen to preserve it. Numerous national parks, such as the Morn or Vallée de Mai Nature Reserve, classified as a UNESCO World Heritage Site, provide a great opportunity to admire certain endemic species such as the famous Black Parrots.

Although the majority of the 80,000 inhabitants of the Seychelles live on the main islands such as Mahé, there are many little corners of paradise as you head further south: the Amirantes, Farquhar, Aldabra... Unspoilt archipelagos await you, sure to provide the perfect setting for a magical getaway, far from home. Welcome to paradise!
Read more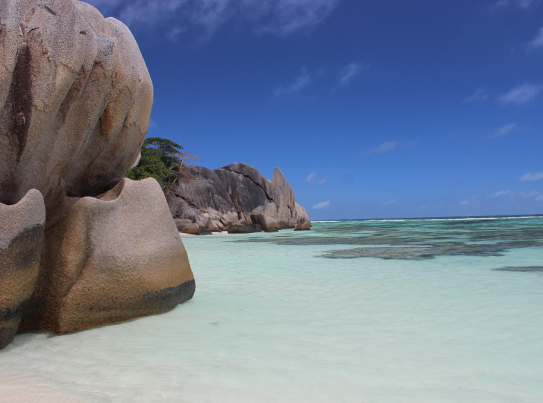 The essentials of the destination

Distance
1 826 km

Time to flight
2h35

Flight schedule
2 flights per week

Meteo and climate

Time zone difference
None

Language
English, Creole, French
Currency
Roupie Seychelloise
Sharing experience in Mahé
The Seychelles' capital of Victoria is well worth a day trip during your holiday. Enjoy a stroll through its picturesque streets and don't forget to stop off at the market, known here as the 'bazar'. Soak up the conversations, smells and colourful stalls, as it really is the ideal opportunity to get a 100% authentic travel experience!
Prénom et nom
Marion et Camille
A mask, snorkel and swimsuit is all you need for unique experience that's completely free! The Seychelles' lagoon is a real paradise for snorkelling - its coral reefs and colourful fish are real little natural treasures! Feast your eyes, and don't forget your Gopro!
Prénom et nom
Nicolas Dijoux