Toliara, the capital of south-western Madagascar, direct from Reunion Island
Still not as well-known as Diego Suarez, Nosy Be ou Antananarivo, the southern Malagasy town of Toliara is an ideal starting point for visits across the region.
Both sincere and warm, Toliara's nickname of 'the city of the sun' is well-deserved. In addition to enjoying great weather all year round, this warmth can also be felt in the locals' wonderful hospitality
Culture lovers will be enthralled by the diversity of cultural sites that the city boasts. At the Rabesandratana Oceanographic Museum, admire the richness of the Mozambique Channel's seabed while staying dry! And if you want to learn more about the region's considerable ethnic diversity, check out the Toliara museum to discover the Mahafaly, an ethnic group that can only be found in the south-west of the island.
As a crossroads of different ethnic influences, the city and its region is also known for its Vézo, a fascinating people made up of traditional fishermen. And down south, several of their authentic villages are dotted along this idyllic coastline. Anakao is easily reached by boat from Toliara, and is probably the best known of the Vézo villages.
To the north of the city, Ifaty is a seaside resort frequented by locals - white sandy beaches and turquoise waters are a heavenly setting for a relaxing break. Toliara is situated along the famous coral reef of Madagascar, one of the largest in the world, and the perfect spot for a first dive surrounded by multi-coloured fish and coral of all shapes and sizes.
Read more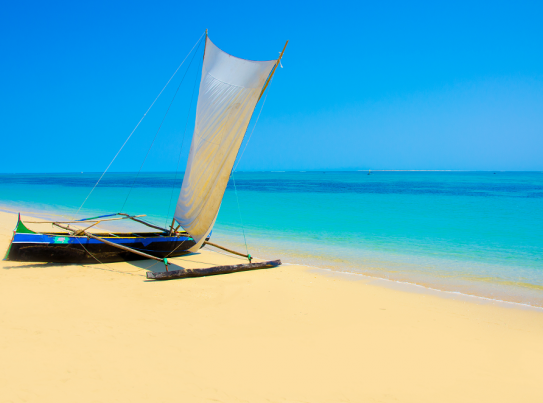 The essentials of the destination

Distance
1 244 km

Flight time
1h57

Flight schedule
1 flight per week

Weather and climate

Time zone difference
-1h

Language
Malgache et Français
Currency
Ariary Malgache
Sharing experience in Tuléar
The shell market is my favourite place in Toliara. This historical spot is a unique opportunity to get to see real natural mother-of-pearl jewels! Some shells are protected, so be sure to read up on the rules before going there.
Prénom et nom
Martin Lallemand
In Ifaty, don't miss the stunning ballet of the sailboat dugouts at sunrise. It's a magical display you can admire all year round!
Prénom et nom
Martine Rivière